2024 Hyundai Kona
The 2024 Hyundai Kona, now in its second generation, offers prospective buyers several engine choices, including a fully electric model with a range of 418 kilometers. In addition to its electric powertrain, the Kona offers two other engine variants, including a sporty N Line edition, to satisfy a variety of buyers. There's much more to love about this updated Kona than just its spacious interior. It comes with a sleek exterior design that's sure to attract attention as well as a collection of cutting-edge features to make it the most advanced Kona yet.
Eye-catching Design
The 2024 Hyundai Kona is striking with its one-of-a-kind design that's certain to catch the eye.
Exterior
As far as exterior styling is concerned, the 2024 Hyundai Kona makes a bold statement and there is no doubt that it stands out from the competition. The latest Kona was originally developed as an electric vehicle with a sleek, modern, and polished exterior design that conveys a sense of refinement, modernity, and polished craftsmanship. Additionally, this edition of the Kona is wider and longer than any previous model. In addition, it measures 4,350 mm in length and has a wheelbase that is 60 mm longer than the previous model. In addition to making the new Kona more noticeable on the road, its increased width also enhances its cabin space.
The Kona's design seamlessly blends practicality with a sleek aesthetic. Boasting a commendable drag coefficient of 0.27, the vehicle ensures reduced wind noise and enhanced efficiency, a testament to its superior aerodynamic engineering. This is further emphasized by its streamlined front and rear tailgate design. Additionally, the striking chrome accents, which gracefully extend from the belt line all the way to the rear spoiler, combined with the prominently integrated centre high-mounted stop lamp, give the vehicle a distinctive and assertive presence on the road.
A pixelated seamless horizontal lamp and pixel motif accent the electric variant of the Hyundai Kona, enhancing its distinctive appearance. The electric version introduces cutting-edge lighting elements, enhancing its visual appeal. These features, coupled with a selection of vibrant exterior hues, ensure the Kona stands out on the road. The exterior of the Kona was designed by Hyundai designers to be modern, distinct, and stylish from every angle. Immediately recognizable, the new Kona in all its forms will always get noticed.
Interior
The 2024 Kona reflects Hyundai's commitment to enhancing both functionality and user experience. The redesigned interior prioritizes passenger comfort and cargo efficiency. Regardless of the chosen Kona variant, users will appreciate its adaptability and spaciousness. The dashboard stands out with its streamlined horizontal C-Pad, seamlessly integrating dual 12.3-inch panoramic displays for both multimedia and instrumentation, simplifying user interaction with the system.
Efficiency and user-centric design are evident in the Kona's interior updates. The shift-by-wire gear selector has been thoughtfully placed to maximize console space, resulting in intuitive driver controls and a more spacious centre console. Thoughtful additions, such as the rotating cup holder, add to the console's practicality. The redesigned front seats provide ample legroom for rear passengers, and the Curveless Bench Seat ensures comfort for all occupants. For those needing more cargo space, the rear seats can be fully folded, offering a generous 723-litre capacity that can be expanded to 1803 litres.
Digital Key
The Hyundai Kona integrates modern technology to enhance user convenience and safety. It introduces the Digital Key 2 system, enabling owners to access and start their vehicles using NFC-enabled devices, eliminating the need for traditional keys. This feature also supports sharing vehicle access with trusted individuals. The Surround View Monitor provides multiple perspectives around the Kona, aiding in parking and navigating tight spaces, with the added capability to help you detect sidewalks and offer a clearer view of the vehicle's front surroundings.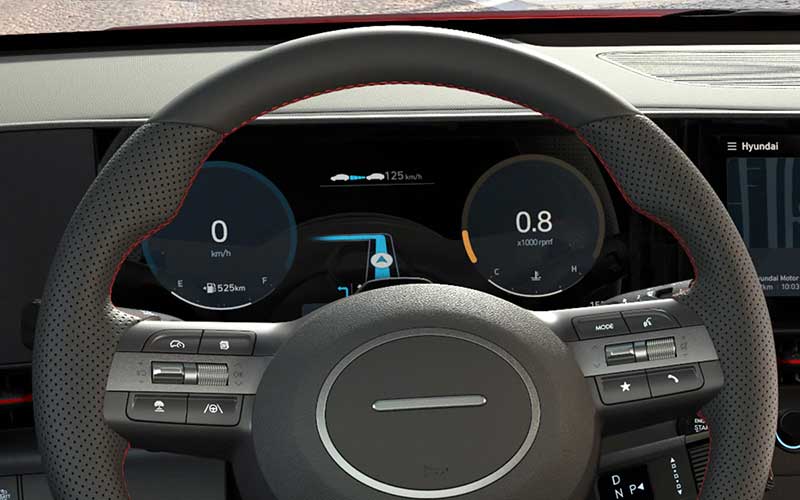 Features
The Kona Electric offers specialized technological features, including additional front storage, adjustable grille shutters, and the Vehicle-to-Load (V2L) function, which supports bi-directional charging—useful during power interruptions or outdoor activities. Another notable feature is the i-PEDAL, allowing drivers to manage acceleration and braking with a single pedal. This is paired with the Smart Regenerative System, which adapts to traffic flow, optimizing regenerative braking. The updated Kona prioritizes safety, comfort, and user-friendly technology.
New Versions
The second-generation Kona continues to evolve, incorporating a range of sophisticated technologies. These enhancements contribute to making the 2024 Kona one of the safest and most connected compact SUVs available. It ensures the well-being of both the driver and passengers while maintaining connectivity. The 2024 Hyundai Kona builds upon its predecessor's strengths, while introducing notable advancements.
Engine
The 2024 Hyundai Kona has been engineered to prioritize both performance and efficiency. It provides options for two traditional engines and an electric powertrain, catering to diverse driving preferences. The 2.0-litre 4-cylinder Atkinson engine is designed for a balance of acceleration and fuel conservation, producing 147 horsepower.
Kona N Line
For those seeking a more dynamic driving experience, the Kona N Line offers a turbocharged 1.6-litre 4-cylinder engine, generating 195 horsepower and 195 pound-feet of torque, marking an improvement over its previous iteration.
Kona Electric
For those leaning towards an electric option, the 2024 Kona Electric features a 64.8-kWh battery, capable of covering a distance of up to 418 kilometres on a single charge.
Kona Electric Charging
Notably, it can recharge from 10% to 80% in just 43 minutes. The electric motor delivers 201 horsepower and 188 lb.-ft of torque, ensuring that you always have plenty of power under your right foot.
Frequently Asked Questions about the 2024 Hyundai Kona
The 2024 Hyundai Kona is on sale now.
The 2024 Hyundai Kona is offered in multiple versions.
Essential FWD (Front-Wheel Drive): $25,999
Essential AWD (All-Wheel Drive): $27,999
Preferred FWD (Front-Wheel Drive): $28,499
Preferred AWD (All-Wheel Drive): $30,499
Preferred AWD Trend (All-Wheel Drive): $32,499
N Line AWD (All-Wheel Drive): $35,499
N Line Ultimate AWD (All-Wheel Drive): $38,499
Pricing for the 2024 Hyundai Kona Electric has not yet been released, but expect it to be eligible for both Canadian and provincial electric vehicle rebates.