2024 Hyundai Santa Fe: Where Elegance Meets Adventure
Introducing the 2024 Hyundai Santa Fe
The all-new 2024 Hyundai Santa Fe takes versatility to the next level, brilliantly blending urban sophistication with rugged outdoor capability. With an extended wheelbase, the new Santa Fe now offers an available third row and one of the most expansive interiors in its class. Defined as a "terrace-like" space, it delivers unparalleled roominess and cargo capacity. Combine this with a rugged design that gets noticed and innovative safety technologies, and the fifth-generation Santa Fe is ready to make a significant impact on the market.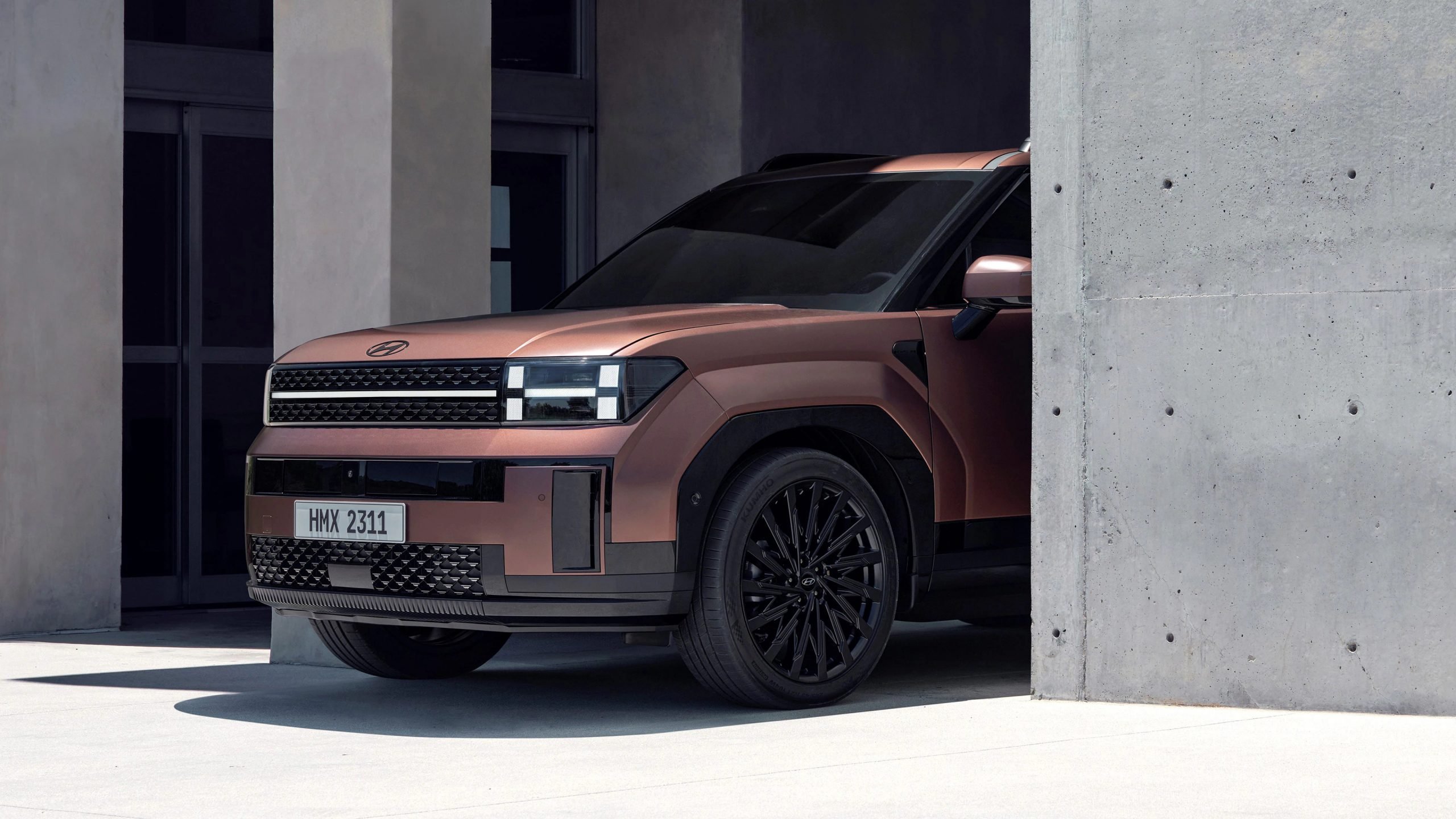 Ready for the Next Adventure
The Santa Fe's distinctive design embodies its spirit of adventure and style. Whether you're exploring the city's boulevards or venturing into the wild, the new Santa Fe ensures you're doing it with flair.
Stand Out on the Road
From its elevated hood to the iconic H-shaped headlights and well-defined fenders, the Santa Fe's front profile leaves an indelible first impression. Drawing inspiration from Hyundai's emblem, these design cues offer a unique boldness. Coupled with its extended wheelbase, the sleek side lines, striking roof design, and generous wheel arches provide a grandiose stance, further amplified by its 21-inch wheels.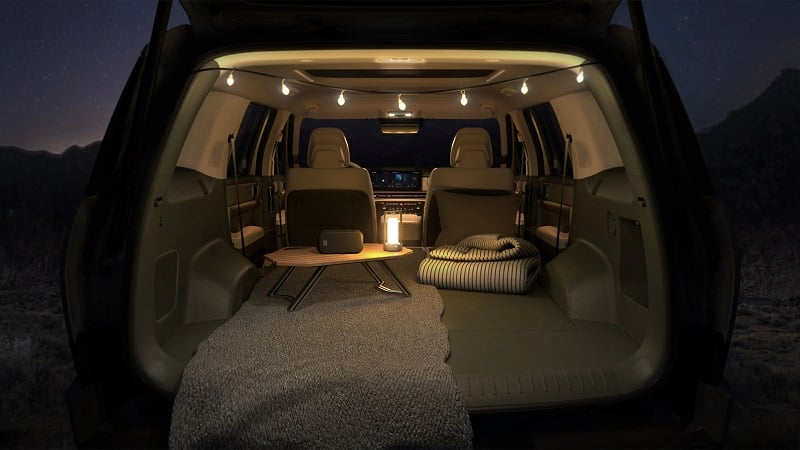 Improved Practicality
Hyundai has prioritized the comfort of its passengers with the 2024 Santa Fe. Not only does it boast the best third-row comfort in its segment, but legroom in both the second and third rows has been substantially increased. This evolution in design was a direct response to customer feedback, underscoring Hyundai's commitment to customer satisfaction.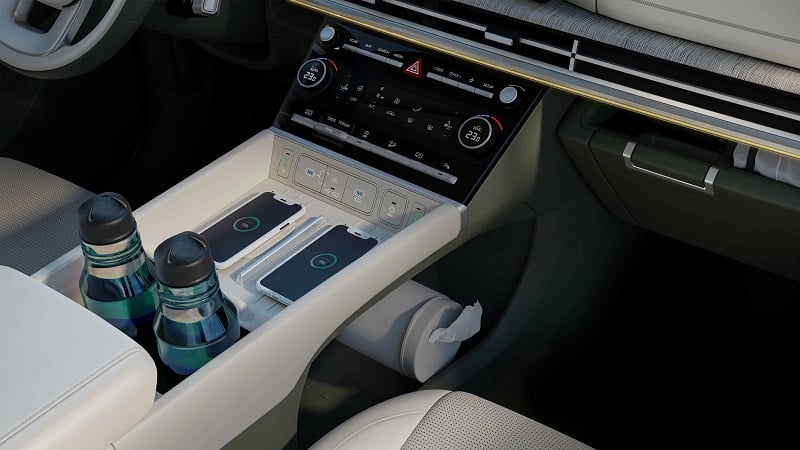 Impressive Comfort
Step inside, and you're greeted by luxurious features. The front-row relaxation seat, complete with a leg-rest, simulates a zero-gravity experience. Moreover, a 6.6-inch touchscreen for temperature adjustments makes comfort settings even more intuitive. The six-seater variant also treats rear passengers to electronically adjustable bucket seats, a feature that is sure to redefine travel comfort.
Key Benefits
Advanced Safety
Safety is paramount in the Santa Fe. A plethora of driver-assistance and safety features ensures minimal driver intervention. Whether you're commuting or on a weekend getaway, features such as the Front Collision Avoidance Assist and Lane Following Assist ensure you're always in safe hands. Moreover, the Santa Fe features the first iteration of the Driver Attention Warning system for a Hyundai vehicle in North America.
Innovative Features
Santa Fe doesn't skimp on innovation. Enjoy wireless smartphone charging, a unique UV-C sterilization tray, and seamless over-the-air software updates. The Digital Key 2 allows for remote access and control using your smartphone, ensuring the vehicle is always at your fingertips.
Cargo Space Reimagined
With an impressive 725 liters of space, an increase of 91 litres compared to its predecessor, the Santa Fe has the cargo space your active lifestyle needs. Moreover, the new Santa Fe boasts the largest cargo opening in its segment.
Ready for Anything
Armed with an all-wheel drive performance, the Santa Fe is prepared for any terrain and adventure. From tackling difficult dirt roads on your way to your cottage or facing difficult Canadian winters, the new SUV from Hyundai is ready for it all.
Performance and Technology
Harness the power and innovation behind the 2024 Hyundai Santa Fe. With cutting-edge technology and impressive powertrain options, it's built to complement your journey.
Hybrid Efficiency
The Santa Fe's 1.6-litre turbocharged hybrid engine packs a punch, delivering a peak 180 horsepower and 195 pound-feet of torque, ensuring you're never short on power while also enjoying impressive efficiency.
Ample Power
For those seeking more power, the Santa Fe doesn't disappoint. Its 2.5-litre turbocharged engine churns out an impressive 281 horsepower and 311 lb-ft of torque, providing an exhilarating drive.
Your Next Adventure Awaits
Luxury features, including a relaxation seat with leg-rest, dual smartphone wireless charging, and panoramic curved screen, amplify the Santa Fe's premium appeal.
In Conclusion
The 2024 Hyundai Santa Fe, with its blend of design, luxury, and power, embodies the essence of modern-day adventures. Whether you're navigating city streets or exploring the great outdoors, the Santa Fe ensures you do it in style and comfort. With its arrival on the horizon, the future of SUVs looks brighter than ever.